Knowing what to do after a work injury is often a confusing process. According to the Indiana Workers Compensation Act, employees, or their family in the case of a work death, must adhere to the steps outlined in the law in order to receive financial assistance and compensation after a work-related injury. An attorney provides a worker hurt on the job a legal representative who will assist in the process of obtaining the appropriate compensation for the workplace accident. But what type of attorney should an employee injured at work hire?
Do I need a personal injury lawyer?
People often mistake personal injury cases with workers compensation claims, but they are not the same. A personal injury attorney provides legal representation for someone injured in an accident. A personal injury lawsuit addresses liability and pursues damages for the injured client. Common types of personal injury lawsuits include car or motorcycle accidents and medical malpractice. Personal injury cases require the determination of fault, unlike workers' compensation claims.
A Workers Comp Lawyer is a Work Injury Lawyer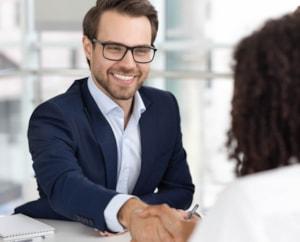 In the state of Indiana, an employee who suffers an on the job injury is precluded from filing a personal injury lawsuit against their employer (for causing the work-related injury) unless it can be proven that the employer purposely harmed the worker. For example, if an employer were to strike an employee with the intent of causing harm, then that employee could file a personal injury lawsuit.
In most cases (those without employer intent to harm) when an employee is hurt on the job, the injured worker should pursue a workers' comp claim. Workers' compensation benefits are designed to provide the employee injured at work with adequate medical coverage and income replacement compensation.
Workers' Comp and Third Party Claim
There are also rare instances where an injured worker may pursue what is referred to as a third-party lawsuit (in addition to their workers' comp claim). If the on the job injury is caused by a person or company other than the employer or occurs off-site then a third-party claim may be pursued. Unlike a workers' compensation claim, which is administered through the Indiana Worker's Compensation Board, third-party lawsuits are handled in civil courts. These types of lawsuits are sometimes referred to personal injury claims. An experienced worker's comp attorney can provide guidance to an injured worker and can coordinate both types of claims, assisting the client in recovering the benefits and compensation that are due.
By selecting a workers comp lawyer from the outset, the injured worker will have a work injury advocate with the knowledge and experience to fight their rights. The burden falls on the employee to recover the appropriate benefits. Such workers compensation benefits include reimbursement for lost wages, payment or reimbursement for medical bills, and protections if the worker is unable to return to the job temporarily or permanently.
Indiana's Work Injury Lawyer

For over 26 years, Charles A. Carlock, workers compensation attorney, has helped Indiana's workers hurt on the job receive wage loss benefits, medical treatment, and fair settlements. First, report your injury to your employer, then contact the Carlock Legal by phone or email.

Carlock Legal has represented employees injured at work across Indiana - from Gary to Fort Wayne and Evansville to Lawrenceburg and everywhere in between. No matter if you're injured on a construction site, suffered manufacturing injuries, been involved in a farming accident, or sustained injuries from a truck driver accident, Charlie Carlock will help fight for your rights.